Our Silent Discos are the perfect party solution that can be as fun at a house or garden party as it could be at a venue! And with our all inclusive Party Packs starting at £100*, its never been so affordable!
Plug your choices of music into the 2 or 3 channels and let everyone choose their favourite tracks! Also transmitters and headphones and ready to plug and play and come with easy to follow instructions to ensure a quick setup.
You can let your DJ plug into a channel or just use your ipod/phone playlists!

Obviously, we think that Silent Disco's are the BEST thing ever! However here's some reasons why you should get involved!
1. Quick and Easy to setup - You can be dancing away within 5 minutes of taking the equipment out of the box! Easy to follow instructions and it can be setup anywhere you have power.
2.Cater for everyone's music taste - Worried about pleasing everyone at a party or can't decide on what music to have? With up to 3 channels being transmitted to your headphones, you can please everyone
3. Top quality headphones - The transmitters send stereo quality sounds to your LED headphones! No crackling as long as you dont wander off too far!
4. No Noise issues - As there is no music coming out of speakers, you are less likely to have issues with noise levels or sound limiters at venues (apart from your singing) They are very popular for weddings/parties with noise restrictions so you can continue the party later!
5. Sing or Chat with ease - The beauty of having a Silent Disco is that your can take your headphones off and have a chat without trying to shout over a DJ!
6. It's HILARIOUS - The videos and photos we receive from our hires are absolute gold! You will lose yourself in the moment and the music… But make sure you take your headphones off and listen to everyone singing! 😂

Silent Disco Party Pack - £100*
Up to 10 LED headphones

2 Transmitters

2 Loaded iPods (Various playlists including Motown & Soul, 80s, 90s, 00s, Current Chart, Old School Dance/R'n'B, Indie Anthems & Kids hits and party)

Self setup with easy to follow instructions
Free Delivery/Collection in Northamptonshire
Additional Transmitter/iPod - £5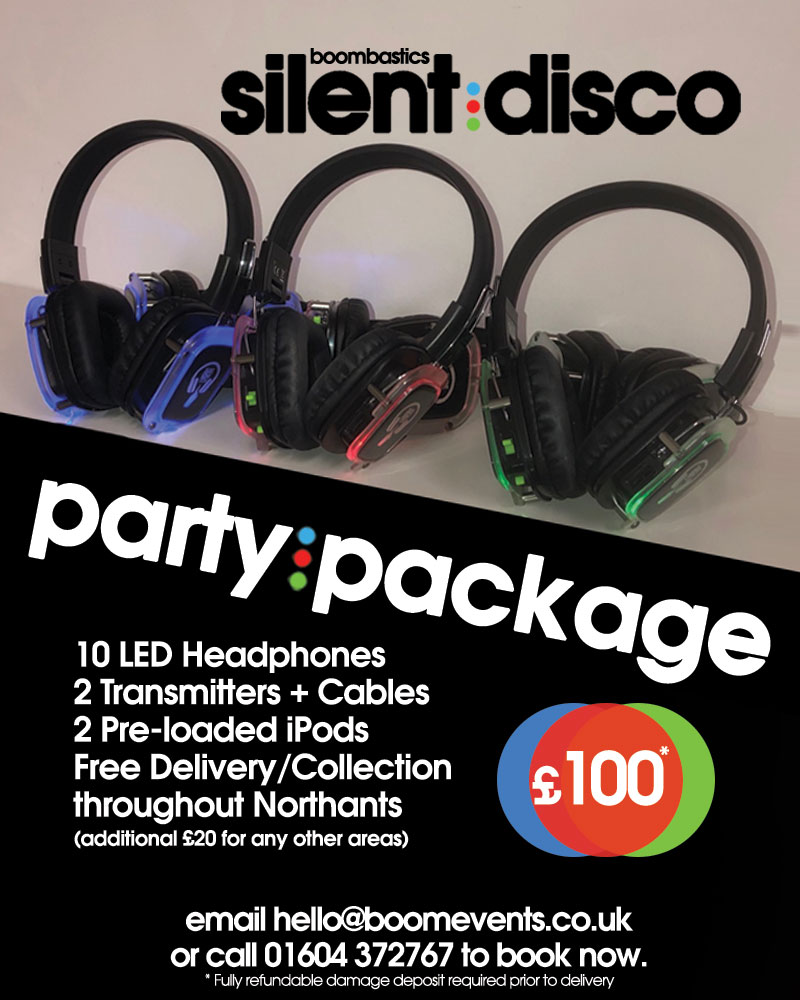 Fill in the enquiry form below to check availability
Party assistants available on request
If you require a larger amount of headphones visit our pricing page to get an idea of costs.
Click here to read more about the hire and delivery process
*Fully refundable damage deposit required prior to delivery.